The Best of Atlassian
10+ most popular Atlassian articles, as voted by our community.
Maker of team collaboration tools @Jira, @JiraServiceMgmt, @Confluence, @Bitbucket, @Trello, @Statuspage, @OpsGenie, @AtlassianMarket and more.
Productivity is a good way to measure the impact of machines. Here are the metrics we should use to measure the impact of humans.
«Using output over time to measure a knowledge worker's performance ignores the quality of that output and the results it led to.»
How can you can be more effective when giving constructive criticism? It's time to lose the "feedback sandwich" and just be direct.
Advice for new managers: 10 powerful people-management strategies to shift your focus from tasks to relationships.
«As a people manager, you are no longer representing just your individual self. You represent your team and the team's values and mission.»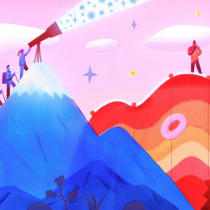 OKRs and KPIs are popular goal-setting methods that help organizations set meaningful goals and execute effective strategies to reach them.
«OKRs are designed to be ambitious and encourage learning by reaching for super ambitious goals (even if you don't meet them)»
Atlassian on Procrastination
According to a growing body of psychology research, procrastinating at work isn't a weakness - it's a symptom
Naming a Chief Vibes Officer each week is one way we make space for vulnerability and innovation – and some lighthearted fun.
Atlassian on Team Building
This ain't your CEO's management book. You'll find step-by-step guides for tracking your team's health, and plays that build your Get $#!τ Done muscle.
Here, we'll share 7 classic structures that contribute to strong teamwork. Find out about each model and when to use it.
Popular
These are some all-time favorites with Refind users.
What is Refind?
Every day Refind picks the most relevant links from around the web for you. is one of more than 10k sources we monitor.
How does Refind curate?

It's a mix of human and algorithmic curation, following a number of steps:

We monitor 10k+ sources and 1k+ thought leaders on hundreds of topics—publications, blogs, news sites, newsletters, Substack, Medium, Twitter, etc.
In addition, our users save links from around the web using our Save buttons and our extensions.
Our algorithm processes 100k+ new links every day and uses external signals to find the most relevant ones, focusing on timeless pieces.
Our community of active users gets the most relevant links every day, tailored to their interests. They provide feedback via implicit and explicit signals: open, read, listen, share, mark as read, read later, «More/less like this», etc.
Our algorithm uses these internal signals to refine the selection.
In addition, we have expert curators who manually curate niche topics.

The result: lists of the best and most useful articles on hundreds of topics.
How does Refind detect «timeless» pieces?

We focus on pieces with long shelf-lives—not news. We determine «timelessness» via a number of metrics, for example, the consumption pattern of links over time.
How many sources does Refind monitor?

We monitor 10k+ content sources on hundreds of topics—publications, blogs, news sites, newsletters, Substack, Medium, Twitter, etc.
Can I submit a link?

Indirectly, by using Refind and saving links from outside (e.g., via our extensions).
How can I report a problem?

When you're logged-in, you can flag any link via the «More» (...) menu. You can also report problems via email to hello@refind.com
Who uses Refind?

400k+ smart people start their day with Refind. To learn something new. To get inspired. To move forward. Our apps have a 4.9/5 rating.
Is Refind free?
How can I sign up?

Head over to our homepage and sign up by email or with your Twitter or Google account.