The Best of VICE
20+ most popular VICE articles, as voted by our community.
Original reporting on everything that matters. Sign up for the VICE Newsletter: http://link1.vice.com/join/6qz/signup
Trending
These are currently making the rounds on Refind.
Financial catastrophe is now only a few clicks away, a problem that is showing quiet signs of becoming a crisis. "I can't just get rid of my phone," one problem gambler says.
It's about rewiring the gamer's relationship to video games, not abstinence.
VICE on Artificial Intelligence
AI researchers are warning developers to focus more on how and why a system produces certain results than the fact that the system can accurately and rapidly produce them.
The Stable Diffusion Explorer shows how words like "assertive" and "gentle" are mapped to sexist stereotypes.
Venture capital subsidizes unprofitable businesses like WeWork and Uber. Society pays the price.
To some, LinkedIn's try-hard nature has become a perfect example of the worst of corporate culture. But the site's influencers say the joke's on everyone else, as they pull in big money with ease.…
People are creating a new kind of nonconsensual pornography by combining deepfakes with 3D avatars that can be manipulated to do whatever they want.
Someone used an algorithm to paste the face of 'Wonder Woman' star Gal Gadot onto a porn video, and the implications are terrifying.
Musk's first few days at Twitter create the image of someone who owns a company he doesn't want and has no idea how to manage.
Zoom's privacy policy isn't explicit about the data transfer to Facebook at all.
Competition, miscalculations, and regulatory scrutiny have all but killed the advertising giant's dreams of diversifying its business and rolling up the digital world into its platform.
This is the latest example of how bias creeps into artificial intelligence.
A treasure trove of design documents shows how 'The Sims' became one of gaming's most beloved franchises.
How easy is it to exploit Airbnb? While searching for my grifter, I found out.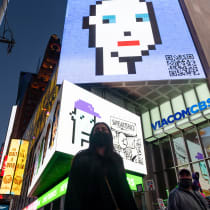 Top marketplaces facilitate epic amounts of theft and wash trading, scams are rampant, and the cringe is unbearable. Can it last?
A 1972 MIT study predicted that rapid economic growth would lead to societal collapse in the mid 21st century. A new paper shows we're unfortunately right on schedule.
«The best available data suggests that what we decide over the next 10 years will determine the long-term fate of human civilization.»
Everyone from Silicon Valley billionaires to self-help enthusiasts is repurposing Stoicism for our modern age, with results that are good, bad, and highly indifferent.
«Things like "wake up early," "go for a walk," "journal," "eat well," "read," and "get active" are good pieces of advice, but surely not specifically Stoic behaviors. »
Popular
These are some all-time favorites with Refind users.
What is Refind?
Every day Refind picks 5 links from around the web that make you smarter, tailored to your interests. is one of more than 10k sources we monitor.
How does Refind curate?

It's a mix of human and algorithmic curation, following a number of steps:

We monitor 10k+ sources and 1k+ thought leaders on hundreds of topics—publications, blogs, news sites, newsletters, Substack, Medium, Twitter, etc.
In addition, our users save links from around the web using our Save buttons and our extensions.
Our algorithm processes 100k+ new links every day and uses external signals to find the most relevant ones, focusing on timeless pieces.
Our community of active users gets 5 links every day, tailored to their interests. They provide feedback via implicit and explicit signals: open, read, listen, share, add to reading list, save to «Made me smarter», «More/less like this», etc.
Our algorithm uses these internal signals to refine the selection.
In addition, we have expert curators who manually curate niche topics.

The result: lists of the best and most useful articles on hundreds of topics.
How does Refind detect «timeless» pieces?

We focus on pieces with long shelf-lives—not news. We determine «timelessness» via a number of metrics, for example, the consumption pattern of links over time.
How many sources does Refind monitor?

We monitor 10k+ content sources on hundreds of topics—publications, blogs, news sites, newsletters, Substack, Medium, Twitter, etc.
Can I submit a link?

Indirectly, by using Refind and saving links from outside (e.g., via our extensions).
How can I report a problem?

When you're logged-in, you can flag any link via the «More» (...) menu. You can also report problems via email to hello@refind.com
Who uses Refind?

100k+ smart people start their day with Refind. To learn something new. To get inspired. To move forward. Our apps have a 4.9/5 rating.
Is Refind free?
How can I sign up?

Head over to our homepage and sign up by email or with your Twitter or Google account.