The Best of Smashing Magazine 🇺🇦 🏳️‍🌈
20+ most popular Smashing Magazine 🇺🇦 🏳️‍🌈 articles, as voted by our community.
An online magazine for designers and web developers. Questions? We've got your back: @SmashingSupport, @SmashingConf. Curated by Iris, Vitaly and the team.
Trending
These are currently making the rounds on Refind.
Smashing Magazine 🇺🇦 🏳️‍🌈 on a11y
As designers, we like to think we are solution-based. But whereas we wouldn't hesitate to call out a museum made inaccessible by a lack of wheelchair ramps, many of us still remain somewhat oblivious…
This article will demonstrate some useful features in DevTools which can help you improve the accessibility of your website.
Smashing Magazine 🇺🇦 🏳️‍🌈 on Accessibility
In this article, Noah Mashni and Mark Steadman share their approach to how to leverage the automated test results from the accessibility checks to drive change and reach sustainable digital…
Color in design is very subjective. What evokes one reaction in one person may evoke a very different reaction in somone else. Sometimes this is due to personal preference, and other times due to cultural background. Color theory is a science in itself. Studying how colors affect different people, either individually or as a group, is something some people build their careers on. And there's a lot to it. Something as simple as changing the exact hue or saturation of a color can evoke a completel
Smashing Magazine 🇺🇦 🏳️‍🌈 on CSS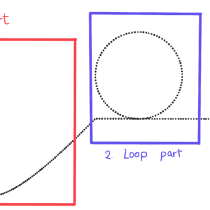 In this article, Yosra Emad explains how to create a rollercoaster path that a ball follows using cubic beziers and CSS transitions. You'll also learn how the cubic-bezier function in CSS works in…
Have you ever wanted to use a particular CSS feature but didn't because it **wasn't fully supported in all browsers**? Or, worse, it was supported in all browsers, but the support was buggy, inconsistent or even completely incompatible? If this has happened to you — and I'm betting it has — then you should care about [Houdini](https://wiki.css-houdini.org/). Houdini is a new W3C task force whose ultimate goal is to make this problem go away forever. It plans to do that by introducing a new set o
Smashing Magazine 🇺🇦 🏳️‍🌈 on Design
Instead of spending your coffee break scrolling through your social feeds, how about a lovely little website instead? We came across some fantastic ones that are just too good not to be shared. But be…
Workshops are all about people: they involve people, are conducted by people, and aim to close the gaps in people's communication. Slava Shestopalov shares a checklist with everything you need to keep…
Smashing Magazine 🇺🇦 🏳️‍🌈 on Frontend
Who doesn't love a good front-end tool? In this roundup, you'll find a nice list of useful front-end tools that were popular last year but are still bound to help you speed up and enhance your…
Smashing Magazine 🇺🇦 🏳️‍🌈 on Javascript
What started as a case study turned into a guide to visualizing audio with JavaScript. Although the output demos are in React, Jhey Tompkins isn't going to dwell on the React side of things too much.…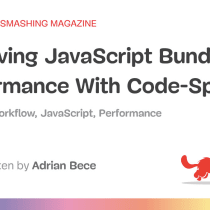 In this article, Adrian Bece shares more about the benefits and caveats of code-splitting and how page performance and load times can be improved by dynamically loading expensive, non-critical…
«Password checking is not critical for page render. Its functionality is required only when the user interacts with the password input. So, let's code-split zxcvbn into a separate bundle, dynamically import it and load it only when the password input value changes, i.e. when the user starts typing their password.»
Smashing Magazine 🇺🇦 🏳️‍🌈 on Programming
CSS is evolving faster than ever. With all of the new features that are now available — and forthcoming — since we got Flexbox and Grid years ago, the way we write CSS is evolving, too. In this…
Let's play with images and experiment with CSS masks. The idea is fairly simple: take a single `` tag and harness the power of CSS to accomplish complex hover transitions. Through different demos, you…
Smashing Magazine 🇺🇦 🏳️‍🌈 on UX
When designing navigation on mobile, we don't have to rely on slide-in-menus or nested accordions. We can also use the curtain design pattern, and show multiple levels of navigation at once.
How do we design effective reviews and ratings? With a distribution chart, decimal scores, tags, recommendation score and unedited product photos.
«Is there a perfect score, by the way? Well, as long as your product's score is somewhere between 4.5 and 4.89 — with a high enough (75+) number of reviews, you probably shouldn't be worrying too much about its competitiveness.»
Smashing Magazine 🇺🇦 🏳️‍🌈 on Visual Design
In this [series of articles](/category/design-patterns/), we highlight design patterns and techniques to design better interfaces. You can find more examples in ["Smart Interface Design…
Developers often reach for UI frameworks like Bootstrap or Material UI, hoping that they'll save a bunch of time and quickly build a professional-looking app. Unfortunately, things rarely work out…
Smashing Magazine 🇺🇦 🏳️‍🌈 on webdev
Let's discover the most popular DevTools tips that can boost your productivity and revolutionize your debugging workflow.
Perhaps more than any other person in history, Leonardo da Vinci showed the kind of magic that can happen in the overlap between art and science, where much of web development lives. His methods and…
Popular
These are some all-time favorites with Refind users.
What is Refind?
Every day Refind picks the most relevant links from around the web for you. is one of more than 10k sources we monitor.
How does Refind curate?

It's a mix of human and algorithmic curation, following a number of steps:

We monitor 10k+ sources and 1k+ thought leaders on hundreds of topics—publications, blogs, news sites, newsletters, Substack, Medium, Twitter, etc.
In addition, our users save links from around the web using our Save buttons and our extensions.
Our algorithm processes 100k+ new links every day and uses external signals to find the most relevant ones, focusing on timeless pieces.
Our community of active users gets the most relevant links every day, tailored to their interests. They provide feedback via implicit and explicit signals: open, read, listen, share, mark as read, read later, «More/less like this», etc.
Our algorithm uses these internal signals to refine the selection.
In addition, we have expert curators who manually curate niche topics.

The result: lists of the best and most useful articles on hundreds of topics.
How does Refind detect «timeless» pieces?

We focus on pieces with long shelf-lives—not news. We determine «timelessness» via a number of metrics, for example, the consumption pattern of links over time.
How many sources does Refind monitor?

We monitor 10k+ content sources on hundreds of topics—publications, blogs, news sites, newsletters, Substack, Medium, Twitter, etc.
Can I submit a link?

Indirectly, by using Refind and saving links from outside (e.g., via our extensions).
How can I report a problem?

When you're logged-in, you can flag any link via the «More» (...) menu. You can also report problems via email to hello@refind.com
Who uses Refind?

300k+ smart people start their day with Refind. To learn something new. To get inspired. To move forward. Our apps have a 4.9/5 rating.
Is Refind free?
How can I sign up?

Head over to our homepage and sign up by email or with your Twitter or Google account.