The Best of Reforge
10+ most popular Reforge articles, as voted by our community.
Reforge is the leading solution for advancing your career in Product and Growth.
This post was written by Ravi Mehta. Ravi is a consumer tech leader who is currently an Executive-in-Residence at Reforge. Previously, he was Chief Product Officer at Tinder and a product leader at…
Reforge on Growth Marketing
Recently, startup veterans have identified four core challenges with the Lean Startup. Let's break each of those down & look at a more effective methodology.
«an alternative approach I developed that can serve as a better guide for new product innovation called The Deliberate Startup.»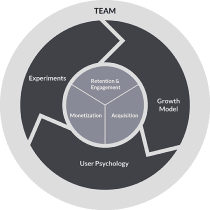 The term "Growth" has been slapped onto everything. Growth marketing, growth hacking, growth engineering, growth product, blah blah blah. It has created a ton of confusion and negative biases. Every week we get questions like, "What is the difference between product and growth team? Growth marketing
Reforge on Product Management
Design, Engineering, and Marketing have specialities, but Product has not yet defined theirs. We talk about problems that arise when we assume all Product Managers are created equal, different types…
Offense and defense are equally important, yet distinct, types of work in product strategy. You can increase your chances of success as a business by taking a unique approach aligned with each type of…
«Your "defense" is the investments you make in order to prevent potential downside for the business. If you don't invest in defense, you're putting the business at risk, but making these defensive bets doesn't generally drive upside in itself.»
Reforge on Product Strategy
Ravi Mehta Ravi is a Reforge Partner, creator of the Product Leadership program, and leads Product Strategy . Ravi was the CPO at Tinder, Product Dir at Facebook, and VP Product at Tripadvisor.
«Difficulty prioritizing is often a strategy issue, not an execution issue.»
Fareed Mosavat is a Reforge EIR and former Director of Product at Slack , focused on growth in the freemium, self-service business. Previously, he led growth and product teams at Instacart and Zynga .…
Elena Verna is a Reforge EIR and Partner on Experimentation and Monetization Deep Dive programs. Elena is a Growth Advisor to Miro, MongoDB, Maze, and others. She was formerly SVP for Product & Growth…
Reforge on User Retention
Pinterest recently announced that they hit 150 million monthly active users sharing over 75 billion "ideas." This represents a 50% increase in their top line metric, and was accompanied by growth in new demographics. Casey Winters is the former growth product lead at Pinterest where he helped the service to crack international growth and surpass its 150 million MAU mark. Winters previously led growth at GrubHub where he helped that company grow from three cities to over 500. We sat down w
Retention - not only does it make companies - but it also quietly breaks them. For this reason, poor user retention has become the silent startup killer. In this post, I will walk you through the…
Popular
These are some all-time favorites with Refind users.
What is Refind?
Every day Refind picks the most relevant links from around the web for you. is one of more than 10k sources we monitor.
How does Refind curate?

It's a mix of human and algorithmic curation, following a number of steps:

We monitor 10k+ sources and 1k+ thought leaders on hundreds of topics—publications, blogs, news sites, newsletters, Substack, Medium, Twitter, etc.
In addition, our users save links from around the web using our Save buttons and our extensions.
Our algorithm processes 100k+ new links every day and uses external signals to find the most relevant ones, focusing on timeless pieces.
Our community of active users gets the most relevant links every day, tailored to their interests. They provide feedback via implicit and explicit signals: open, read, listen, share, mark as read, read later, «More/less like this», etc.
Our algorithm uses these internal signals to refine the selection.
In addition, we have expert curators who manually curate niche topics.

The result: lists of the best and most useful articles on hundreds of topics.
How does Refind detect «timeless» pieces?

We focus on pieces with long shelf-lives—not news. We determine «timelessness» via a number of metrics, for example, the consumption pattern of links over time.
How many sources does Refind monitor?

We monitor 10k+ content sources on hundreds of topics—publications, blogs, news sites, newsletters, Substack, Medium, Twitter, etc.
Can I submit a link?

Indirectly, by using Refind and saving links from outside (e.g., via our extensions).
How can I report a problem?

When you're logged-in, you can flag any link via the «More» (...) menu. You can also report problems via email to hello@refind.com
Who uses Refind?

400k+ smart people start their day with Refind. To learn something new. To get inspired. To move forward. Our apps have a 4.9/5 rating.
Is Refind free?
How can I sign up?

Head over to our homepage and sign up by email or with your Twitter or Google account.