The Best of Prototypr 👁️✨
10+ most popular Prototypr 👁️✨ articles, as voted by our community.
Open source design platform 🚀 Write for us 👉 http://app.ballparkhq.com/record/44dd6c0…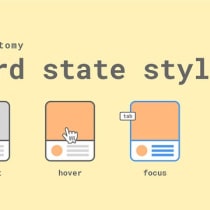 Designing different state style will provide intuitive and delightful user experience as well as the accessibility to everyone.
Prototypr 👁️✨ on Design Thinking
Inspired by my work applying design thinking to education and social projects in Michigan State University's Hub for Innovation and the US…
Prototypr 👁️✨ on Industrial Design
Once upon a time, we had products that were colorful, in shapes that were quirky, whimsical, and expressive. Interesting! And then, almost…
Prototypr 👁️✨ on Information Architecture
What Is Information Architecture?
As a standard part of the UX process, designers create information architecture when building products. Defining every avenue and path that…
Prototypr 👁️✨ on Mixed Reality
As designers, we create user flows and give them to developers, product managers, clients, and sometimes even users for testing. At its…
Prototypr 👁️✨ on Personas
Why does ChatGPT seem so smart, but is so easy to trick? A psychologist's experiment and take on ChatGPT's and their own limitations.
Prototypr 👁️✨ on Visual Design
In Product Design, and Possibly Life Management
How Figma made Open Design a thing, and a look to the future of open source design tools, like Penpot!
Popular
These are some all-time favorites with Refind users.
What is Refind?
Every day Refind picks the most relevant links from around the web for you. is one of more than 10k sources we monitor.
How does Refind curate?

It's a mix of human and algorithmic curation, following a number of steps:

We monitor 10k+ sources and 1k+ thought leaders on hundreds of topics—publications, blogs, news sites, newsletters, Substack, Medium, Twitter, etc.
In addition, our users save links from around the web using our Save buttons and our extensions.
Our algorithm processes 100k+ new links every day and uses external signals to find the most relevant ones, focusing on timeless pieces.
Our community of active users gets the most relevant links every day, tailored to their interests. They provide feedback via implicit and explicit signals: open, read, listen, share, mark as read, read later, «More/less like this», etc.
Our algorithm uses these internal signals to refine the selection.
In addition, we have expert curators who manually curate niche topics.

The result: lists of the best and most useful articles on hundreds of topics.
How does Refind detect «timeless» pieces?

We focus on pieces with long shelf-lives—not news. We determine «timelessness» via a number of metrics, for example, the consumption pattern of links over time.
How many sources does Refind monitor?

We monitor 10k+ content sources on hundreds of topics—publications, blogs, news sites, newsletters, Substack, Medium, Twitter, etc.
Can I submit a link?

Indirectly, by using Refind and saving links from outside (e.g., via our extensions).
How can I report a problem?

When you're logged-in, you can flag any link via the «More» (...) menu. You can also report problems via email to hello@refind.com
Who uses Refind?

250k+ smart people start their day with Refind. To learn something new. To get inspired. To move forward. Our apps have a 4.9/5 rating.
Is Refind free?
How can I sign up?

Head over to our homepage and sign up by email or with your Twitter or Google account.