The Best of New Atlas
20+ most popular New Atlas articles, as voted by our community.
Extraordinary ideas that move the world forward
Trending
These are currently making the rounds on Refind.
Fifty years on from American chemist Pal Laterbur detailing the first magnetic resonance imaging (MRI), scientists have marked this historic medical anniversary with the sharpest-ever scans of a mouse…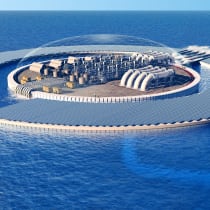 Captura Corporation, a spinoff of the California Institute of Technology, has developed a revolutionary plan to remove carbon emissions by creating an aquatic purification facility in the middle of…
Like bladeless Dyson fans on steroids, Jetoptera's unique aircraft propulsion systems look like pure sci-fi. But they're beginning to demonstrate some fascinating capabilities in testing, and the next…
There are now a number of kits for converting regular bikes into ebikes, most of which involve swapping in a motorized wheel or adding a device that rolls against the rear tire. The Skarper system is…
A new study led by researchers at McGill University challenges current notions of how acute pain is treated. The findings suggest treating some forms of acute pain with anti-inflammatory drugs may…
Human trials have shown that hydrogel injections are a promising, effective treatment for chronic lower back pain caused by degenerative disc disease (DDD). The treatment is far less invasive than…
Desktop Metal - remember the name. This Massachussetts company is preparing to turn manufacturing on its head, with a 3D metal printing system that's so much faster, safer and cheaper than existing…
Scientists at Georgia Tech have discovered a new quantum state in a quirky material. In a phenomenon never before seen in anything else, the team found that applying a magnetic field increased the…
As compared to today's video gaming systems, pinball machines may seem quaint and simple. Such is certainly not the case with New York artist Andy Cavatorta's Dual Coincidence installation, however,…
New Atlas on Psychedelics
The US Food and Drug Administration (FDA) has granted psilocybin therapy a Breakthrough Therapy designation for the second time in a year, this time with a view on accelerating trials testing its efficacy treating major depressive disorder (MDD).
Can a drug-induced psychedelic experience be replicated by virtual reality? Or, can VR induce its own unique altered state of consciousness?
New Atlas on Psychotherapy
A new study is presenting the first published data from preliminary human trials investigating the effect of psilocybin-assisted psychotherapy to treat major depressive disorder (MDD). The incredibly positive results have been described as just a "taste of things to come" with larger a Phase 2 trial well underway.
In what sounds like dystopian sci-fi, researchers have recently shown that infusions of youthful blood can improve the health of older people. A new study has found that an existing arthritis drug can…
Although we've seen a number of systems that use sunlight to purify tainted water, their output is often quite limited. A new loofah-inspired hydrogel, however, uses sunlight to treat much more water…
Evolution has shaped the load-bearing skeletons of animals over aeons with incredible precision. Now, an accelerated simulation of the evolution process is helping NASA create stronger, lighter parts…
If you've ever been to the Moon (and who hasn't?), then you'll know that the clingy dust which covers its surface can damage spacesuits. According to a new study, a spray of liquid nitrogen may offer…
Popular
These are some all-time favorites with Refind users.
What is Refind?
Every day Refind picks the most relevant links from around the web for you. is one of more than 10k sources we monitor.
How does Refind curate?

It's a mix of human and algorithmic curation, following a number of steps:

We monitor 10k+ sources and 1k+ thought leaders on hundreds of topics—publications, blogs, news sites, newsletters, Substack, Medium, Twitter, etc.
In addition, our users save links from around the web using our Save buttons and our extensions.
Our algorithm processes 100k+ new links every day and uses external signals to find the most relevant ones, focusing on timeless pieces.
Our community of active users gets the most relevant links every day, tailored to their interests. They provide feedback via implicit and explicit signals: open, read, listen, share, mark as read, read later, «More/less like this», etc.
Our algorithm uses these internal signals to refine the selection.
In addition, we have expert curators who manually curate niche topics.

The result: lists of the best and most useful articles on hundreds of topics.
How does Refind detect «timeless» pieces?

We focus on pieces with long shelf-lives—not news. We determine «timelessness» via a number of metrics, for example, the consumption pattern of links over time.
How many sources does Refind monitor?

We monitor 10k+ content sources on hundreds of topics—publications, blogs, news sites, newsletters, Substack, Medium, Twitter, etc.
Can I submit a link?

Indirectly, by using Refind and saving links from outside (e.g., via our extensions).
How can I report a problem?

When you're logged-in, you can flag any link via the «More» (...) menu. You can also report problems via email to hello@refind.com
Who uses Refind?

200k+ smart people start their day with Refind. To learn something new. To get inspired. To move forward. Our apps have a 4.9/5 rating.
Is Refind free?
How can I sign up?

Head over to our homepage and sign up by email or with your Twitter or Google account.