The Best of Elemental
10+ most popular Elemental articles, as voted by our community.
Wellness, backed aggressively by science. A new publication from @Medium. Find us on Instagram: https://instagram.com/elemental
Paywall possible
People are losing the brain benefits of writing by hand as the practice becomes less common
A combination of several popular approaches could yield the best long-term health benefits
The Japanese concept of 'ikigai' helps explain a boost in longevity
Elemental on Mental Health
Psychiatrist and habit change specialist Dr. Jud Brewer explains how anxiety masquerades as helpful
IFS therapy is upending the thinking around schizophrenia, depression, OCD, and more
Elemental on Psychedelics
How psilocybin, LSD, and other psychedelic drugs could increase wellness in people without mental illness
The psychedelic community is torn over the growing interest in developing medical versions of a drug that may even help treatment-resistant…
Why you might want to stop talking about your anxiety and try this instead
«Modern-day humans are basically a bunch of freaked-out Neanderthals in fight-or-flight mode 24/7.»
Neurodiversity, sensitivity, and how the status quo snubs 20–30% of us
Four simple steps to return to a 'rest and digest' state
Meditation has a slew of health benefits, but not everyone likes doing it. Here are some worthy alternatives.
Elemental on Self Control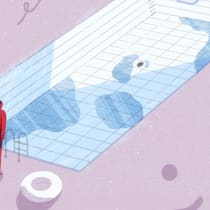 Self-control is all in your head
The mysterious nerve network that quiets pain and stress — and may defeat disease
Popular
These are some all-time favorites with Refind users.
What is Refind?
Every day Refind picks the most relevant links from around the web for you. is one of more than 10k sources we monitor.
How does Refind curate?

It's a mix of human and algorithmic curation, following a number of steps:

We monitor 10k+ sources and 1k+ thought leaders on hundreds of topics—publications, blogs, news sites, newsletters, Substack, Medium, Twitter, etc.
In addition, our users save links from around the web using our Save buttons and our extensions.
Our algorithm processes 100k+ new links every day and uses external signals to find the most relevant ones, focusing on timeless pieces.
Our community of active users gets the most relevant links every day, tailored to their interests. They provide feedback via implicit and explicit signals: open, read, listen, share, mark as read, read later, «More/less like this», etc.
Our algorithm uses these internal signals to refine the selection.
In addition, we have expert curators who manually curate niche topics.

The result: lists of the best and most useful articles on hundreds of topics.
How does Refind detect «timeless» pieces?

We focus on pieces with long shelf-lives—not news. We determine «timelessness» via a number of metrics, for example, the consumption pattern of links over time.
How many sources does Refind monitor?

We monitor 10k+ content sources on hundreds of topics—publications, blogs, news sites, newsletters, Substack, Medium, Twitter, etc.
Can I submit a link?

Indirectly, by using Refind and saving links from outside (e.g., via our extensions).
How can I report a problem?

When you're logged-in, you can flag any link via the «More» (...) menu. You can also report problems via email to hello@refind.com
Who uses Refind?

250k+ smart people start their day with Refind. To learn something new. To get inspired. To move forward. Our apps have a 4.9/5 rating.
Is Refind free?
How can I sign up?

Head over to our homepage and sign up by email or with your Twitter or Google account.