The Best of andrew chen
10+ most popular andrew chen articles, as voted by our community.
a16z GAMES FUND ONE. Investing in games, AI, VR/AR, metaverse, and the future of entertainment!
andrew chen on Andrew Chen
Guest Post by Bangaly Kaba (EIR @ Reforge, Former VP Growth @ Instacart, Instagram) The following was written by Bangaly with contributions by other Reforge EIR's Elena Verna (Miro, MongoDB,…
«The Adjacent Users are aware of a product and possibly tried using the it, but are not able to successfully become an engaged user»
[Dear readers, this essay is on the future of marketplaces. Is there still room for marketplace startups to innovate? We answer, emphatically, yes! Am excited to share a vision on the past and future…
andrew chen on Brian Balfour
[Andrew: Excited about today's guest post! I was recently interviewed by the folks at Reforge, a new company started by my friends Brian Balfour and Susan Su focused on advanced professional…
andrew chen on Marketplaces
Entrepreneurs and investors base decisions on user growth forecasts. But common models for user growth rely on lagging indicators. In this clever article, venture capitalist Andrew Chen details a method for understanding and predicting growth via user "acquisition loops" and "engagement loops." Start-up investors and entrepreneurs will appreciate Chen's authoritative take on this crucial subject, as well as his emphasis on sustainability and quality.
Hi readers, The growth teams at Uber and Airbnb occasionally met over the years to share best practices, brainstorm ideas, and share observations on the startup world. I've had folks over to 1455…
andrew chen on Product Management
Metrics are merely a reflection of the product strategy that you have in place Data is powerful because it is concrete. For many entrepreneurs, particularly with technical backgrounds, empirical data…
andrew chen on Product Market Fit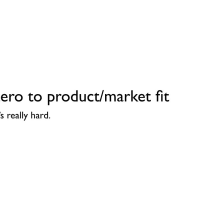 Readers, Starting from a blank canvas is the absolute hardest thing to do. It's insanely hard. And yet the brave entrepreneurs in the tech industry do it, time and time again, and every year, a few…
[Andrew: Paid marketing remains an integral part of many products' acquisition channels, and one of the key metrics is Cost of Customer Acquisition, which is a nuanced calculation with lots of…
Marketplaces are easily underestimated When marketplaces get big, they can get really big. Some of the biggest tech successes ever – eBay, Airbnb, Alibaba, Uber – are marketplaces worth tens of billions of dollars each. And yet marketplaces often start small, in niches and weird corners of the Internet. As we all know, when eBay […]
Dear readers, Building a new growth team is hard. You have to figure out the macro organizational issues – how it fits in with marketing, product, and other functions – as well as the micro, like how…
[Originally tweetstormed at @andrewchen, Follow me for more!] Many of the biggest implosions in recent history – especially ecommerce – have been due to startups getting addicted to paid marketing while fooling themselves on Customer Acqusition Costs. As spend scales, it always gets more expensive and harder to track – never less. A familiar story: […]
andrew chen on User Retention
Exclusive data on retention curves for mobile apps In a recent essay covering the Next Feature Fallacy, I explained why shipping "just one more feature" doesn't fix your product. The root cause is that the average app has pretty bad retention metrics. Today, I'm excited to share some real numbers on mobile retention. I've worked with mobile […]
Popular
These are some all-time favorites with Refind users.
What is Refind?
Every day Refind picks the most relevant links from around the web for you. is one of more than 10k sources we monitor.
How does Refind curate?

It's a mix of human and algorithmic curation, following a number of steps:

We monitor 10k+ sources and 1k+ thought leaders on hundreds of topics—publications, blogs, news sites, newsletters, Substack, Medium, Twitter, etc.
In addition, our users save links from around the web using our Save buttons and our extensions.
Our algorithm processes 100k+ new links every day and uses external signals to find the most relevant ones, focusing on timeless pieces.
Our community of active users gets the most relevant links every day, tailored to their interests. They provide feedback via implicit and explicit signals: open, read, listen, share, mark as read, read later, «More/less like this», etc.
Our algorithm uses these internal signals to refine the selection.
In addition, we have expert curators who manually curate niche topics.

The result: lists of the best and most useful articles on hundreds of topics.
How does Refind detect «timeless» pieces?

We focus on pieces with long shelf-lives—not news. We determine «timelessness» via a number of metrics, for example, the consumption pattern of links over time.
How many sources does Refind monitor?

We monitor 10k+ content sources on hundreds of topics—publications, blogs, news sites, newsletters, Substack, Medium, Twitter, etc.
Can I submit a link?

Indirectly, by using Refind and saving links from outside (e.g., via our extensions).
How can I report a problem?

When you're logged-in, you can flag any link via the «More» (...) menu. You can also report problems via email to hello@refind.com
Who uses Refind?

250k+ smart people start their day with Refind. To learn something new. To get inspired. To move forward. Our apps have a 4.9/5 rating.
Is Refind free?
How can I sign up?

Head over to our homepage and sign up by email or with your Twitter or Google account.