The Best of Indie Hackers
10+ most popular Indie Hackers articles, as voted by our community.
Get inspired! Stories, business ideas, strategies, and revenue numbers from the founders of profitable online businesses ⚡ by @csallen and @channingallen
Indie Hackers on Business Ideas
It's been said that ideas don't matter, execution does. I wholeheartedly disagree. You need both to succeed, but you can only get so good at execution....
Indie Hackers on Creator Economy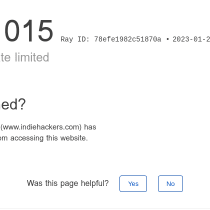 I remember a time when I only wanted *one* big revenue stream. The idea of having multiple products and services sounded exhausting. But these days, I'm...
Hey IndieHackers! 👋 I recently launched my project on Reddit and got some good results that I'd thought I'd share here! I had two separate campaigns, a...
Indie Hackers on Influencer Marketing
_This is a free version of the Software Ideas Marketing Guide on community outreach. Originally, I was only planning on releasing this for members of th...
Indie Hackers on Marketing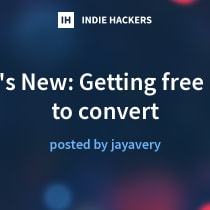 *(from the latest issue of the Indie Hackers newsletter)* Freemium, free trials, paid freemium...the debate rages on: - **Regardless of where you stand...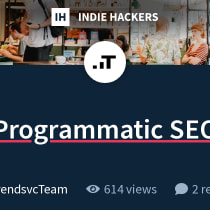 💎 Why It Matters ----------------- You need to *cost-effectively* acquire customers. 🔍 Problem ------------ Writing editorial content is slow, expensi...
Indie Hackers on Starting A Business
Too many people get hung up waiting for the right idea to start a business I reckon. But especially if you're just starting out in indie hacking/busines...
Interested in building a startup, or starting your own small business to make money on the side? Learn by example from dozens of entrepreneurs who share how they came up with great business ideas.
Popular
These are some all-time favorites with Refind users.
What is Refind?
Every day Refind picks the most relevant links from around the web for you. is one of more than 10k sources we monitor.
How does Refind curate?

It's a mix of human and algorithmic curation, following a number of steps:

We monitor 10k+ sources and 1k+ thought leaders on hundreds of topics—publications, blogs, news sites, newsletters, Substack, Medium, Twitter, etc.
In addition, our users save links from around the web using our Save buttons and our extensions.
Our algorithm processes 100k+ new links every day and uses external signals to find the most relevant ones, focusing on timeless pieces.
Our community of active users gets the most relevant links every day, tailored to their interests. They provide feedback via implicit and explicit signals: open, read, listen, share, mark as read, read later, «More/less like this», etc.
Our algorithm uses these internal signals to refine the selection.
In addition, we have expert curators who manually curate niche topics.

The result: lists of the best and most useful articles on hundreds of topics.
How does Refind detect «timeless» pieces?

We focus on pieces with long shelf-lives—not news. We determine «timelessness» via a number of metrics, for example, the consumption pattern of links over time.
How many sources does Refind monitor?

We monitor 10k+ content sources on hundreds of topics—publications, blogs, news sites, newsletters, Substack, Medium, Twitter, etc.
Can I submit a link?

Indirectly, by using Refind and saving links from outside (e.g., via our extensions).
How can I report a problem?

When you're logged-in, you can flag any link via the «More» (...) menu. You can also report problems via email to hello@refind.com
Who uses Refind?

300k+ smart people start their day with Refind. To learn something new. To get inspired. To move forward. Our apps have a 4.9/5 rating.
Is Refind free?
How can I sign up?

Head over to our homepage and sign up by email or with your Twitter or Google account.