The Best of Greylock
10+ most popular Greylock articles, as voted by our community.
We partner early with consumer, enterprise, and crypto software entrepreneurs. Our mission is to help realize rare potential. Newsletter: https://bit.ly/4252Fwl
Growth Advisor Casey Winters and Uber's Andrew Chen on why growth is getting harder and more expensive.
Recently, Jeff Bezos announced that he would be stepping down as CEO of Amazon, the iconic blitzscaling company that he has led since 1994. A look back at his nearly 27 years at the helm of Amazon…
Part 1: What's Causing the Bot Craze?
Greylock on Growth Marketing
I was involved with Pinterest from 5 employees through 650. Here's what I learned.
Snapchat's interface baffles a lot of people. Not to pick on older folks, but people over a certain age tend to have a hard time figuring out how to do the most basic things with Snapchat, like…
Are you innovating on the sales channel of insurance or are you innovating on the product level?
Frequency creates habit which creates loyalty which creates profit. Uber and Lyft are successful because consumers need to get from A to B…
Greylock on Network Effects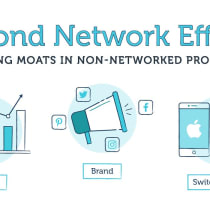 Important businesses will be built in areas without network effects and there are ways to become extremely valuable without them
Greylock Partner Reid Hoffman and Blitzscaling co-author Chris Yeh on defining and developing a competitive strategy.
From the 2019 SFELC Summit, Greylock's Sarah Guo and Reid Hoffman on blitzscaling massively valuable companies.
During economic downturns, is it possible (or even wise) for startup entrepreneurs to deploy growth tactics? Will companies be able to secure funding? Should founders even consider starting a business…
Design may have been an afterthought to product development in past years, but it's now widely understood to be a crucial early stage component. The explosion of consumer apps – and their influence on…
Popular
These are some all-time favorites with Refind users.
What is Refind?
Every day Refind picks the most relevant links from around the web for you. is one of more than 10k sources we monitor.
How does Refind curate?

It's a mix of human and algorithmic curation, following a number of steps:

We monitor 10k+ sources and 1k+ thought leaders on hundreds of topics—publications, blogs, news sites, newsletters, Substack, Medium, Twitter, etc.
In addition, our users save links from around the web using our Save buttons and our extensions.
Our algorithm processes 100k+ new links every day and uses external signals to find the most relevant ones, focusing on timeless pieces.
Our community of active users gets the most relevant links every day, tailored to their interests. They provide feedback via implicit and explicit signals: open, read, listen, share, mark as read, read later, «More/less like this», etc.
Our algorithm uses these internal signals to refine the selection.
In addition, we have expert curators who manually curate niche topics.

The result: lists of the best and most useful articles on hundreds of topics.
How does Refind detect «timeless» pieces?

We focus on pieces with long shelf-lives—not news. We determine «timelessness» via a number of metrics, for example, the consumption pattern of links over time.
How many sources does Refind monitor?

We monitor 10k+ content sources on hundreds of topics—publications, blogs, news sites, newsletters, Substack, Medium, Twitter, etc.
Can I submit a link?

Indirectly, by using Refind and saving links from outside (e.g., via our extensions).
How can I report a problem?

When you're logged-in, you can flag any link via the «More» (...) menu. You can also report problems via email to hello@refind.com
Who uses Refind?

200k+ smart people start their day with Refind. To learn something new. To get inspired. To move forward. Our apps have a 4.9/5 rating.
Is Refind free?
How can I sign up?

Head over to our homepage and sign up by email or with your Twitter or Google account.