The Best of The Associated Press
10+ most popular The Associated Press articles, as voted by our community.
Advancing the power of facts, globally 🌎
Trending
These are currently making the rounds on Refind.
Many studies say American youth are in crisis, facing unprecedented mental health challenges that are burdening teen girls in particular. Adults have theories about what is going on but what do girls…
CAPE CANAVERAL, Fla. (AP) — The International Space Station was a cramped, humid, puny three rooms when the first crew moved in...
The Associated Press on Climate Crisis
In a desperate effort to save a seabird species in Hawaii from rising ocean waters, scientists are moving chicks to a new island hundreds of miles away. Moving species to save them — once considered…
VOSS, Norway (AP) — Chunks of ice float in milky blue waters. Clouds drift and hide imposing mountaintops. The closer you descend to the surface, the more the water roars — and the louder the "CRACK"…
The Associated Press on Education
JACKSON, Tenn. (AP) — When he looked to the future, Grayson Hart always saw a college degree. He was a good student at a good high school. He wanted to be an actor, or maybe a teacher. Growing up, he…
Community colleges are in trouble. Enrollment has fallen 37% since 2010, and their completion rates are dismal — nearly half of students drop out within a year. Scant advising, labyrinthian financial…
The Associated Press on Elon Musk
SAN FRANCISCO (AP) — Elon Musk was depicted Wednesday as either a liar who callously jeopardized the savings of "regular people" or a well-intentioned visionary as attorneys delivered opening…
The Associated Press on Food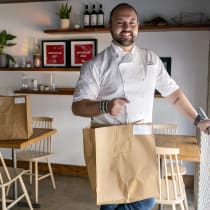 Consumers are willing to pay monthly subscription fees for streaming services, pet food and even toilet paper. And now some restaurants are betting they'll do the same for their favorite meals. Large…
As awareness grows around the world about the problem of food waste , one culprit in particular is drawing scrutiny: "best before" labels.
The Associated Press on Medicine
EDEN PRAIRIE, Minn. (AP) — The ghostly form floating in a large jar had been the robust reddish-brown of a healthy organ just hours before. Now it's semitranslucent, white tubes like branches on a…
The Associated Press on Politics
NEW DELHI (AP) — The Aug. 5 demonstrations by India's main opposition Congress party against soaring food prices and unemployment began like any other recent protest — an electorally weak opposition…
The Associated Press on Racism
JACKSON, Miss. (AP) — Carey Wooten spent nearly seven weeks hunting for safe drinking water for herself, her two children and three dogs after clocking out each day as a Taco Bell manager, so Gov.
The Associated Press on Religion
The portion of Americans with no religious affiliation is rising significantly, in tandem with a sharp drop in the percentage that identifies as Christians, according to new data from the Pew...
The Associated Press on Russia
MARIUPOL, Ukraine (AP) — The Russians were hunting us down. They had a list of names, including ours, and they were closing in. We had been documenting the siege of the Ukrainian city by Russian…
Popular
These are some all-time favorites with Refind users.
What is Refind?
Every day Refind picks the most relevant links from around the web for you. is one of more than 10k sources we monitor.
How does Refind curate?

It's a mix of human and algorithmic curation, following a number of steps:

We monitor 10k+ sources and 1k+ thought leaders on hundreds of topics—publications, blogs, news sites, newsletters, Substack, Medium, Twitter, etc.
In addition, our users save links from around the web using our Save buttons and our extensions.
Our algorithm processes 100k+ new links every day and uses external signals to find the most relevant ones, focusing on timeless pieces.
Our community of active users gets the most relevant links every day, tailored to their interests. They provide feedback via implicit and explicit signals: open, read, listen, share, mark as read, read later, «More/less like this», etc.
Our algorithm uses these internal signals to refine the selection.
In addition, we have expert curators who manually curate niche topics.

The result: lists of the best and most useful articles on hundreds of topics.
How does Refind detect «timeless» pieces?

We focus on pieces with long shelf-lives—not news. We determine «timelessness» via a number of metrics, for example, the consumption pattern of links over time.
How many sources does Refind monitor?

We monitor 10k+ content sources on hundreds of topics—publications, blogs, news sites, newsletters, Substack, Medium, Twitter, etc.
Can I submit a link?

Indirectly, by using Refind and saving links from outside (e.g., via our extensions).
How can I report a problem?

When you're logged-in, you can flag any link via the «More» (...) menu. You can also report problems via email to hello@refind.com
Who uses Refind?

200k+ smart people start their day with Refind. To learn something new. To get inspired. To move forward. Our apps have a 4.9/5 rating.
Is Refind free?
How can I sign up?

Head over to our homepage and sign up by email or with your Twitter or Google account.