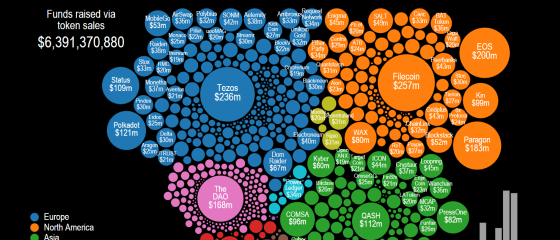 An animated visual history of initial coin offerings (aka token sales), from the early days of 2014 to their meteoric rise in 2017
You might have heard the term "smart contract," and you might even know that they are "code" you can run on a blockchain.But how can you run code on a blockc...
Cryptocurrency now worth seven times an ounce of gold and higher than IBM, McDonald's or Disney but analysts warn of 'a huge speculative bubble'
The price of a bitcoin has continued to rise overnight, passing $9,000 for the first time this morning.
Followthehashtag is a Twitter intelligence and analytics tool based in keyword search. Dashboard, influence, geo content analysis tool, 20 charts, long term keyword tracking, KPI´s and much more // Fr
Hackers stole the personal data of 57 million customers and drivers from Uber Technologies Inc., a massive breach that the company concealed for more than a year. This week, the ride-hailing company&h
Twitter confirms it's testing a feature that allows users to more easily create "tweetstorms" - those series of connected tweets that have grown to be a..
André Staltz The Web began dying in 2014, here's how Before the year 2014, there were many people using Google, Facebook, and Amazon. Today, there are still many people using services from those t