Chris Messina
Co-founder of Molly. Product guy, friend to startups, inventor of the hashtag; x-Google, X-Uber. I share links about design, product, AI, tech, and culture.
Icons are everywhere. These "little miracle workers" (as John Hicks described them) help us reinforce meaning in the interfaces we design and build. Their popularity in web design has n…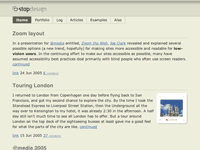 In a presentation for @media entitled, Zoom the Web, Joe Clark revealed and explained several possible options (a new trend, hopefully) for making sites more accessible and readable for low-vision use
Personal website with articles about front-end web development
A macOS app for quick access to WCAG color contrast ratios.